Read Time:
2 Minute, 44 Second
Narkanda mainly visited as a night stop on the way to Spiti. It's one of those places where you halt instead of Shimla. We also visited Narkanda as our first night halt before our Spiti trip begins. Narkanda still remans and Ignored Gem of Himachal Pradesh.
How to reach?
Narkanda located 61 kms away from Shimla max 2-2.30 hrs drive. It is way less crowded than Shimla, but does have fully functional large market and restaurants.

Where to Stay?
One need to prebook your stay with basic homestays with hot and cold water. If you have not prebooked then also you will manage to get accommodation within 1.5k ₹.
We took an early morning flight that day to reach Chandigarh and then a long drive to Shimla. On reaching Shimla, we had to face terrible traffic and then get tricked by driver to visit Kufri, a worst decision ever.
Annoyed, Exhausted and after inhaling loads of dust from Kufri, we reached Narkanda in the Afternoon. Booked our stay with Booking.com at the last moment. When we checked into the room, we had the least expectations, but couldn't believe our own eyes the view from the Balcony. It was time for sunset and we got busy to get freshen up and sleep.
Where to eat?
Negi Dhaba is very famous on local cuisine here. We tried to eat here but it closes around 9pm so we couldn't try it out. Other restaurants are going to be open till 10PM, so don't be late.
Hatu Peak ignored gem in Narkanda, Himachal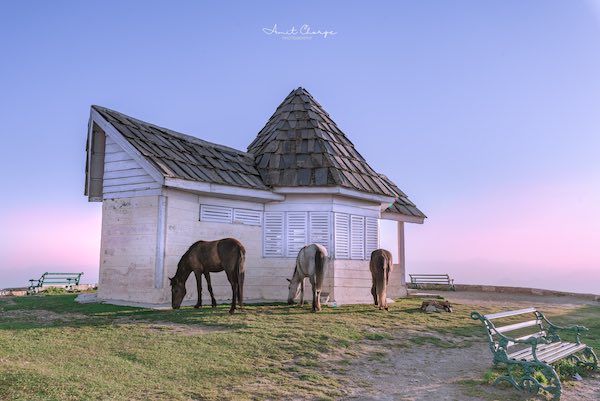 Hatu peak is the sight to see when you are in Narkanda, everyone knows it and visits the place. This is where we ignore the real value Narkanda. Hatu peak is the ignored gem of Narkanda, Himachal. People travel only to see the temple or the view above the mountain.
Most of the time travellers choose to make the mistake of visiting this place in the morning around 9-10AM. Thats what makes whole lot of difference.

The ideal time to visit Hatu Peak is either at sunset or sunrise. That's the time the place turns magical. We were there at sunrise and wish that we were there at sunset too. You can explore the whole area apart from the temple and enjoy the place. Don't get us wrong here. If you can't make it, then visiting the temple later in the day is also beautiful but not breathtaking enough.
Farm Visits in Narkanda
Narkanda has many apple orchards and cherry plantations. You can opt to pay a visit to these beautiful farms. If you are visiting in summer months Apr-May, make sure you visit the cherry plantations. During Aug-Oct you can see apple orchards. Please do not forget to buy boxes of fresh cherries or apples depending on which season you visited.

Things to Note
All mobile Networks are available here even Jio works.
You have ATMs in the market area to withdraw cash
Our recommendation will be even if you are not ding Spiti belt, you should visit Narkanda. A weekend trip for 2 nights will be ideal for this quite getaway from all the hustle bustle of Shimla.
Pin It!

Read Another Post
Follow Us!!
[instagram-feed]