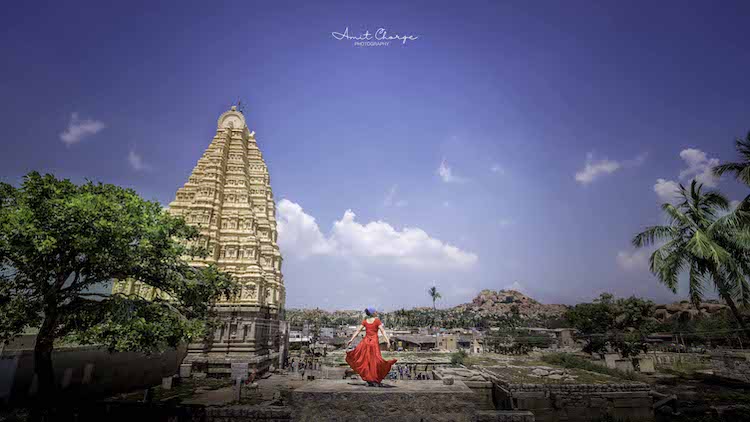 Read Time:
6 Minute, 45 Second
If you are wondering Hampi trip on a long weekend is possible only from Karnataka then you are wrong. In this Hampi Trip Itinerary we will tell you how you can plan a long weekend trip to Hampi from Mumbai. Hampi is a UNESCO world heritage site, ruins of the once prosperous Vijayanagara Empire invaded and destroyed by Mughals. If history doesn't interests you then you must visit the place for it's gorgeous landscape and architecture.
How to reach Hampi?

Flight – Nearest airport from Hampi is Bellary, which is 60km from Hampi. The most reachable airport will be Bengaluru Hyderabad Airport, which is roughly 6-7hrs drive from Hampi.
Train – Nearest train station is Hospet which is very well connected with all major cities in India. If you are coming from Mumbai train will not be best option for you it will take longer than road.
Car – Hampi is very well connected via road from Mumbai, Hyderabad and Bengaluru. Hampi is almost 700km from Mumbai, driving will take you 13-14 hrs, roads are very good and you can even chose to halt at Hubli. If you do not want to drive then you can opt to take a night sleeper bus (book in Redbus), and reach Hampi early next morning.
Where to Stay in your Hampi trip?

Hampi is located on the banks of Tungabhadra river. One side of the river is the temple side and the other side was known as Hippie Island. When we went to Hampi, Hippie island was functional but now you can't stay there as it is closed and facing some legal issue. You can stay in the temple side and go on a day trip to Hippie Island. You should not expect luxury stays near Hampi, most of the stays are basic home-stays. Luxury stay options but it will be bit far from the ruins. If you want comfortable stay and not hung up like us on being there at sunrise or sunset then the most affordable and and comfortable option will be staying at Hospet. Hospet is a city and will have everything at an affordable rate. A good hotel will cost you 1500 Rupees per night, in comparison to Hampi where it will be 2500 Rupees per night.
Where to eat in Hampi?

You will get vegetarian food in Hampi, specially in the temple side. Though it's vegetarian, you will get all type of cuisine in Hampi. You have plenty of cool Cafes to choose from, but we would recommend to definitely try vegetarian thali of Mango Tree Restaurant. It is a very popular place and thali gets over by 3PM. Therefore, please make sure you reach before that as it is worth it.
Getting around in Hampi?

You can reach Hampi by public bus from Hospet, this bus operates from 7AM in the morning to 8PM in the evening. The ticket costs 10-20 rupees and is the cheapest option to travel. Apart from the bus you can book an entire autorickshaw or take a share autorickshaw to reach Hampi, this will costs you 200 to 50 rupees depending on what you chose. You can also rent a car which will be the most luxury option.
Once you are in Hampi you can take scooter rental to do the sights. As there are not many operators, prices vary drastically and the bikes gets sold out quickly. In our Hampi itinerary we will suggest that you contact your homestay owner to pre-book the scooter. Your rental will cost around 500-800 rupees based on the season and demand. You can also book an autorickshaw to do the sights seeing which will cost you 600 rupees and that is what we did.
You need to book a seperate scooter on Hippie Island, as scooters from other side will not be allowed. In Hippie islands scooter rental will cost you 300-500 rupees.
Pin It !


Hampi Trip Itinerary in detail

Our Hampi Trip Itinerary will consist of 3night 4days. It means you need to have atleast one day off along with the weekends. Here is our itinerary for you to check out Hampi temples.
Day 0 Reaching Hampi from Mumbai or Bengaluru or Hyderabad
You need to leave a night before your trip starts, you take a volvo sleeper bus to Hospet from Mumbai/Hyderabad/Pune/Bengaluru. The buses generally starts at 9PM so you will not waste your day travelling.
Day 1 exploring nearby Hampi temples

You will reach early in the morning to Hospet, max by 8AM. You can take the public bus or rent an auto to Hampi. If you are staying in Hospet then check in to your hotel else check in at Hampi. Get freshen up and take some rest. After that we start exploring Hampi temples.
Start with Virupaksha temple (1 in the image) in Hampi, it is still functional and worshiped. Inside the temple cameras are not allowed but you can walk around the temple and click as much as you want. From here explore the Hemakuta Hill (2 in the image) and temple ruins in and around this Hill. Walk down the path to Sasikevalu Ganesha Idol (3 in the image).
From here walk along the main road and explore the Badavilinga temple and Narasimha temple(4 in the image). Once you are done then you take the main road and walk back towards point 1, on the way you will get Kadalekalu Ganesha temple (5 in this image), please check that out. Once you are back near Virupaksha temple, chill and have lunch at the Lemon tree restaurant.
In the evening get for sunset view you have two options. If you can hike then checkout Hampi Bazar ( 6 in the image) then Nandi (7 in the image) monolythic stone by walking. You can enjoy gorgeous sunset view from Matanga Hill, you need to hike for 30-40mins to get to the view point.
Mostly you will be too tired to hike today, in that case enjoy the gorgeous sunset from Hemakuta Hills.
Day2 explore Hippie Island on Hampi Trip

If you are a sunrise person then you can plan to hike up the Matanga Hill for gorgeous sunrise view. If you want, you can also go to Hemakuta Hills depending on your comfort level and where you have been a day prior. You can be back at Mango Tree Restaurant for a health South Indian breakfast and then head out to explore Hippie Island. You can cross Tungabhadra river by boat or take a bus from Hospet to Hippie Island.
Once you are in Hippie Island, rent a scooter to explore the island. You can climb 600 stairs to see Anjaneya Hill Temple for some spiritual experience and breath taking views. After this please make sure to stop at the paddy fields on the way to get some Instagram worth pictures. After that you can proceed to enjoy Sanapur Lake, it is a huge lake infested with crocodiles.
In afternoon have lunch at any restaurant and chose to see the sunset from Hippie Island side or anywhere from the opposite side of the island before calling it a day.
Day 3 Explore Main Hampi Temples before leaving

Early morning wake up and headout towards the direction of Nandi temple and take a left lane to reach Varahaswami temple, the route before sunrise looks magical. You won't regret your last walk before checking out from your hotel in Hampi.
After checking out rent a auto rickshaw for sightseeing in Hampi, it will take 600-700rupees for a trip to Queens Bath, Lotus Temple, Elephnant's Stables, Hazara Rama Temple, Vijaya Vithala temple and Stone Chariot.You can chose a package based on the tariff they have and do bargain before booking.
This will wrap up your Hampi experience and the trip will be done by afternoon and you can have late lunch here. Post lunch, you can take a night bus back to the city you came from. Hope our Hampi Itinerary helps you plan your trip.
Read more on Karnataka wildlife safari